Visit by MFP members, Dr. & Mrs. James Elliott, chairman , Mr. Phil Merriam and Ms. Thelma Miller to Kaakudi village.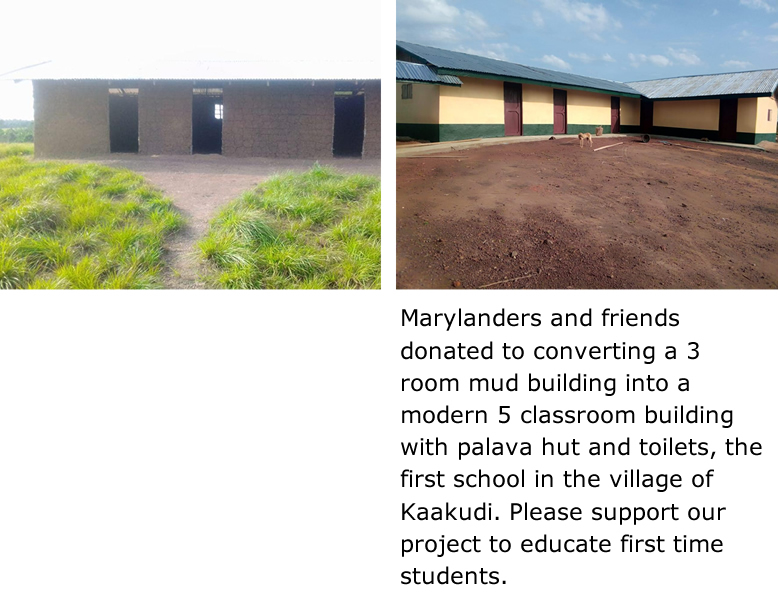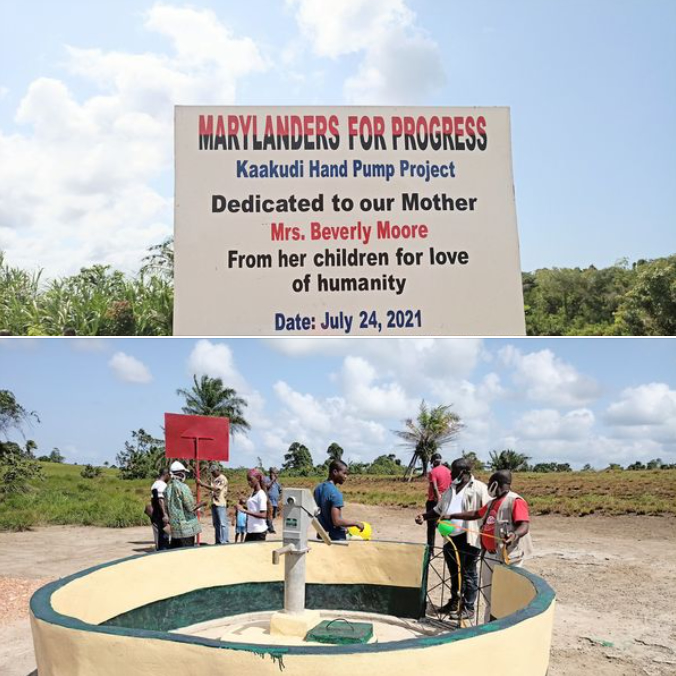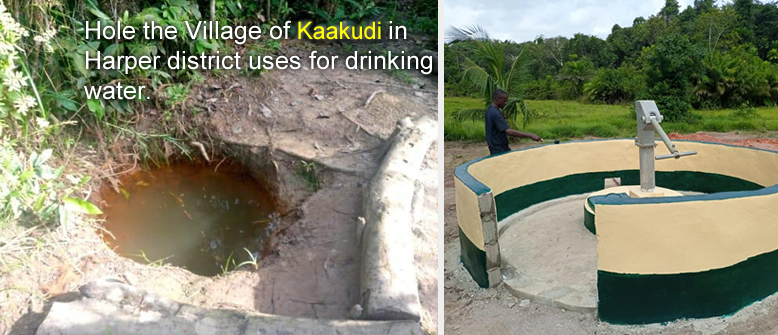 Special statement from Mrs Roberta Brown Cooper, President of the Marylanders for Progress during the dedication of a hand pump for the village of Kaakudi in Maryland County. Click below for video.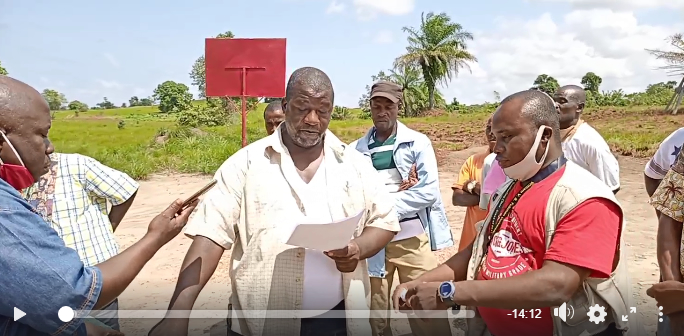 Kaakudi women express gratitude to MFP as they anticipate drinking clean water from a well
Culturally and language appropriate COVID-19 preventative awareness education was provided along with distribution of facial masks. In the awareness project started on May 16, 2020 and ended June 25, 2020. During awareness campaigns a total of 1600 masks were distributed to market women and residents in Harper City, Barriken, Pleebo City, Karloken, Cavalla and Barrabo District. In Cavalla, five communities -Big Town, Wlogoloken, Mission Town, Dololu and Yanlo were serviced with house to house awareness by the National Rural Women Association-Maryland Branch headed by Mario Dio, President.  Volunteers for a Healthy Liberia headed by Theophilus Quaye conducted the masks and awareness activities for the other areas except Barrabo. The awareness and masks distribution for Barrabo were done by youths in Barraboo with help of Emmanuel Collin, TU Farm Manager who traveled to Harper to pickup the masks and back to Barrabo.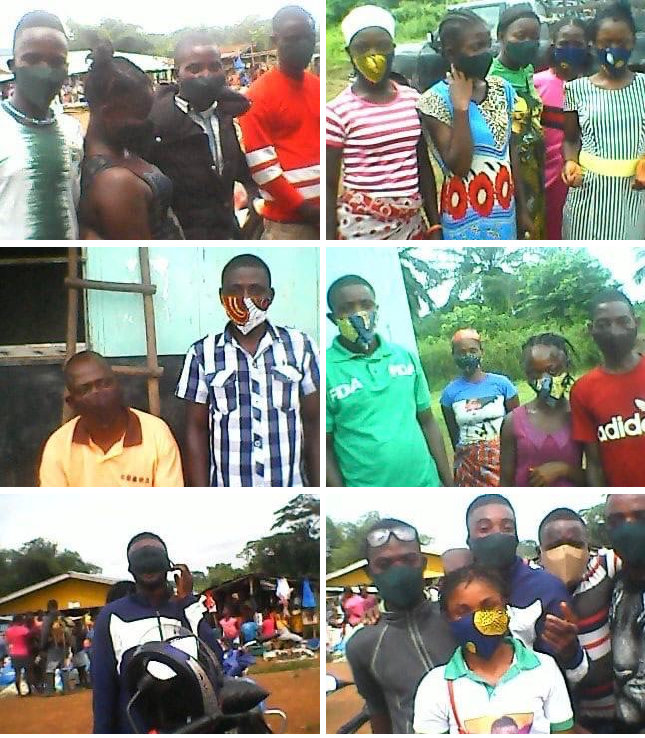 ____________________________________________________________

The first installed hand pump water well project by Marylanders For Progress in Zone 3, Pleebo Sodoken District, Maryland County. Residents of Zone 3 are appreciative of the well where they can pump clean drinking water.
( Click below to see videos )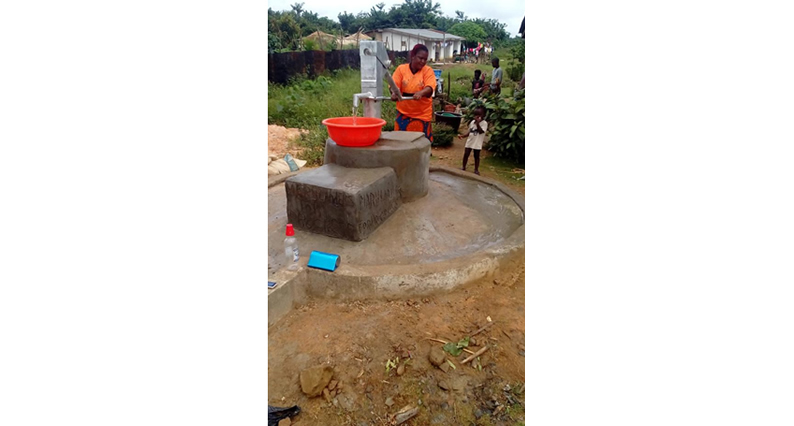 Marylanders For Progress (Liberia) Inc., celebrates 20 years of unbreakable service to Maryland County, Liberia
Marylanders for Progress was formed in 1999 in the State of Maryland as a 501© 3 non-profit charitable organization by a group of Liberians in the diaspora to assist in the economic and social development of Maryland County, Liberia.  MFP's programs are dedicated to making positive contributions to the development of Maryland County through educational programs, capacity building, and targeted funding initiatives that facilitate economic empowerment.
Since its inception, MFP has continued to enjoy the support of many Liberians and concerned individual who share our vision. We will continue to honor and execute our mantra-
"To whom much is given, much is expected."
Thanks to our dedicated members, families and friends who have supported our initiatives over the years. We remain eternally grateful.
_______________________________________
Brief Information about Maryland County



Maryland County is the southern and easternmost county of Liberia's 15 counties and shares a border with Cote d'Iviore. It is named after the state of Maryland in the United States. It was first established in 1827 by the Maryland State Colonization Society (USA) but gained independence in 1854 as Maryland in Africa. In 1857, Maryland in Africa became part of the Republic of Liberia and named Maryland County. The administrative headquarters is Harper City and the county has a population of 136,404 (2008 census) with 4 districts: Harper Commonwealth, Pleebo Sodoken, Karluway and Barrobo. The economy is based on agriculture, mainly rubber. The county is home to the W.V.S. Tubman University, the highest institution of learning in southeastern Liberia. Natural resources include gold and offshore oil. The Atlantic Ocean beaches are unspoiled and pristine. Seafood including oysters, lobsters, rice, cassava, eddoes, breadfruit, sweet potatoes and plantain are examples of local cuisines available to Maryland County residents.

Marylanders For Progress ( MFP ) - Our Mission
To promote understanding of the history and cultures of Maryland County in Liberia.
To lend support to institutions that preserve cultural heritage of the people of Maryland County, Liberia.
To cultivate relationships between Marylanders and friends of Maryland County.
To assist with the economic, education and social development of the people of Maryland County.